Scripps Florida Campus is Home to Doctoral Students
What is not widely known locally, but well known nationally is that there are students on the Scripps Florida campus in Jupiter who are part of Scripps Research Institute's Graduate Program offering doctoral degrees in Chemistry and Biology. In the most recent rankings by U.S. News & World Report, Scripps' Graduate Program came away with the following national rankings:
7th Overall in Chemistry
3rd in Organic Chemistry
4th in Biochemistry
7th Overall in Biological Science
9th in Biochemistry/Biophysics/Structural Biology
Max Planck Florida Institute & Florida Atlantic University
Max Planck Florida Institute for Neuroscience and Florida Atlantic University Collaborate on a Joint-Doctoral Program on FAU's Jupiter Campus
Graduate education and the ability to attract excellent graduate students are key elements to the success of Max Planck Florida Institute for Neuroscience (MPFI). MPFI graduate students participate in a wide array of community activities organized by MPFI's Postdoctoral Association.
In late 2014, MPFI established an International Max Planck Research School (IMPRS) for Brain & Behavior. It offers students a world-class doctoral program to learn, train and work in foreign countries. Its research programs address how sensory information is encoded in neural circuits and is transformed ultimately to behavior. MPFI, in collaboration with Florida Atlantic University (FAU), the University of Bonn (Bonn, Germany), and the Center for Advanced European Studies and Research (Bonn, Germany), is globalizing brain research with this new program. There are 80 international Max Planck Institutes that are associated with 60 International Max Planck Research Schools. MPFI has received 140 applications for this program and the second class is expected to start in this fall.
MPFI's Integrative Biology and Neuroscience Ph.D. Program is also in collaboration with FAU. This program (known as IBAN) is held on FAU's Jupiter campus and students explore neuroscience via multiple integrated disciplines and an array of technologies.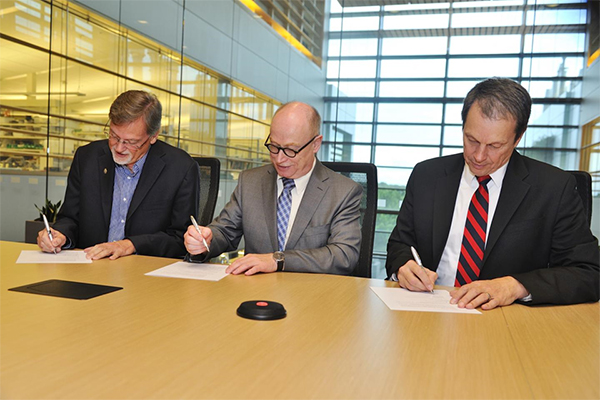 John D. Macarthur Campus, Jupiter
Florida Atlantic University
For the 2016–2017 academic year, Florida Atlantic University ranks as the top-performing state university by Florida's Board of Governors that oversees Florida's entire State University System! FAU tied for first place with University of Central Florida among all of the state's 11 universities. The Jupiter Campus houses FAU's Honors College, as well as the Life Science Collaborations with Scripps Florida and Max Planck Florida Institute.
The FAU Max Planck Honors Program is a joint initiative between FAU's Charles E. Schmidt College of Science, FAU's Harriet L. Wilkes Honors College and MPFI. Commencing in fall 2018, the neuroscience honors program will support several opportunities in STEM.
Throughout its entire Southeast Florida Service Region, Florida Atlantic University is serving a record high student body of 30,000 undergraduate and graduate students. FAU offers more than 180 degree programs, from the arts and humanities, the sciences, medicine, nursing, business, education, social work, architecture, engineering, computer science and more.
Eissey Campus, Palm Beach Gardens
Palm Beach State College
Palm Beach State College offers more than 130 programs of study, from career training and certifications to Associate of Arts and Bachelor's Degrees. PBSC currently has more than 48,000 students at its combined campuses throughout Palm Beach County.
Dual Enrollment Program for High School Students: Eligible Palm Beach County high school students can participate in the Dual-Enrollment program taking college level courses at PBSC at no cost, earning college credits while in high school.
BARRY UNIVERSITY SCHOOL OF PROFESSIONAL AND CAREER EDUCATION
Palm Beach Gardens Campus
Barry University's Palm Beach Gardens Campus, a private university, focuses on undergraduate and graduate programs in Human Resources, Health Services, Public Administration, Emergency Management, Legal Studies, and select Liberal Studies.
SERVING THE PALM BEACH NORTH REGION
Keiser University
Keiser is a private, not-for-profit, university focused on career-education and degrees primarily for adult learners. With the 2015 acquisition of a campus-based university in West Palm Beach, Keiser's Palm Beach County presence offers more than 100 degrees with the opportunity to accommodate more traditional campus-based students, in addition to adult learners
The more you discover about Palm Beach North, the more you'll want to call us home.